The Magic Mirror
Creating an immersive and memorable shopping experience for brides
The Magic Mirror allows brides to compare gowns easily by capturing images of the bride as she tries on styles, displaying her favorites on the high-tech glass.
Traditionally, a bride narrows down to a few gowns during their initial appointment and then may require several additional visits to finalize her decision.
With the Magic Mirror your store will see customers make decisions sooner.
Magic Mirror Features
Turnkey packages for 3' x 5' or 4' x 6' mirrors
Multiple tablet access and control
Organize photos by customer
Email and text images to friends and family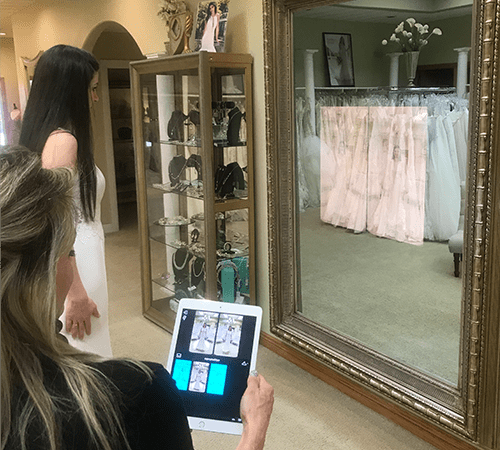 The Magic Mirror has been helpful for us because we're able to help lead the bride to her final decision a lot faster, where we used to do it in several appointments, we can usually do it in one appointment now.
Victoria Malina
Assistant Manager, Elynne Bridal
The Magic Mirror is really what made it easy to say 'yes.' It's one-of-a-kind!
Victoria Burkey
Bridal Customer
…and let's not forget about the Magic Mirror, oh the Magic Mirror!
That is a see-it-to-believe-it kind of thing and had me hooked!
Nichole Zeoli
Bridal Customer